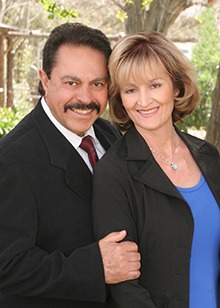 back to back success
Serving Alpine California for over 40 years
Alpine Premier Properties
1411 Rock Terrace
Alpine, CA 91901
Alpine is a picturesque foothill village East of San Diego, with many attractive homes and small ranches nestled among the oaks, sycamores, eucalyptus and pepper trees, amid rolling hills covered with chaparral and sage.
It borders the Cleveland National Forest and it is only a 20-minute drive east to the mountain recreation areas of Cuyamaca State Park and the Laguna Mountains. It is a half hour drive west to San Diego and the Pacific Ocean.
Situated on Interstate 8 at the foot of the rugged Viejas Mountains, which rise to 4,187 above sea level. Alpine's elevation ranges from 1,800 to 2,600 feet. Alpine's ideal climate ranges from an average high temperature of 77 degrees to an average low temperature of 55 degrees
The community has a population of 15,000 and is adequately provided with all types of business services: retail, medical, food, lodging and recreational. It is also the home of the Viejas Band of the Kumeyaay Indians and their Viejas Casino & Outlet Center. Industrial zoned property is available for development off the Tavern Road exit. Existing businesses are expanding, and new businesses are being established to attract visitors to Alpine.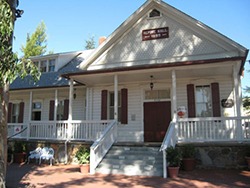 Alpine Historic Town Hall
Alpine is a community that is firmly committed to quality education. Parents play a very active roll in schools through the PTA's and volunteering in the classroom. Special programs for the arts are offered through the Art Docent program and Alpine Optimist Foundation for learning.
Three elementary schools, a middle school and early education school comprise the Alpine Union School District. The district takes pride in the quality of its well-rounded academic program and its small class size. The elementary and middle schools have been recognized by the state for their academic excellence.
High school students may attend Steele Canyon High School or Granite Hills High School, both in the Grossmont High School District. A citizen's committee continues to work toward that goal of a High School being built in Alpine.
Cuyamaca-Grossmont College District provides many opportunities for students wishing to attend a junior college, on their campuses located in El Cajon and La Mesa area.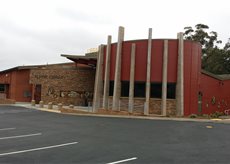 The Alpine Community Center located on 7.5 acres in the middle of town offers a wide variety of activities and amenities for everyone. On site is the newly constructed Alpine Library County of San Diego, the first zero net energy building.The library features an expanded collections of materials, a large children's area, teens and tweens spaces, study areas, a homework center, wireless internet in a computer lab, a resource room and an automated book check in and check out. There is  a dedicated area  for special events, programs, movies and author's talks. The 9,000 sq. ft. Community Center provides opportunities for a wide range of activities, from conferences, community-meeting rooms, to community events, private parties, and weddings. Also onsite is the Alpine Veteran's wall of honor.