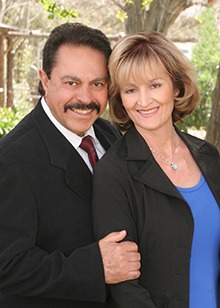 back to back success
Serving Alpine California for over 40 years
Alpine Premier Properties
1411 Rock Terrace
Alpine, CA 91901
In this fast-paced world where names and faces may soon be forgotten, it is important to know when you buy your dream home or list your property with Russ and Dawn, you will be treated like FAMILY.
Russ and Dawn began their real estate careers in 1977 and opened their own office in Alpine, California in 1979. As President and Vice President of their own company, each have acquired back to back success with over 40 years of real estate sales experience and collectively selling over 300 million dollars worth of real estate. Additionally, they have ensured their sales staff understand the importance of honesty, sincerity and hard work.
Both are licensed California real estate brokers. They are trained corporate relocation specialists (luxury homes) new home sales,land sales and development and marketing experts. They have an award-winning office and staff with hundreds of satisfied customers. They have sold more than 2000 homes in the area.
Russ graduated from Wayne State University College of Engineering with emphasis on mathematics. Dawn's father has been a long time real estate broker, so real estate has been second nature for her. Russ, Dawn and their children enjoy the outdoors in Alpine. FAMILY MATTERS has become their by-word in both business and personal life.
What sets them apart from competitors is their emphasis on service and their vast level of experience and knowledge of the Alpine real estate market. Russ and Dawn are progressive and aggressive in marketing their listings. 
When choosing your real estate services, the only choice is Russ and Dawn. Support and service is the rule and success is the result.