"I can't say enough wonderful things. You were so persistent & tenacious. Even when we were ready to give up."
- Gary and Tina Spriggs
"I couldn't have made a better choice of realtors. You said you could get us an unbelievable price... We can hardly believe it! Thank you."
- George & Rosie Underhill
"Thank you for your service. You and your staff were a great help!"
- Lou and Gwen Smith

We specialize in buying and selling homes throughout San Diego County. If you are a buyer or seller who lives near San Diego or if you are looking to relocate to our area, we are happy to assist you! Real estate is one of the largest and most exciting investments one can make. We are here to make sure that your process is a fun and rewarding one! Our website is geared toward our local areas of San Diego County and also surrounding rural communities. We are specialists in our community and we would be happy to help you with all of your real estate needs!
Throughout our website you will find many useful tools to assist with buying or selling a home. We are dedicated to providing the finest service available, and our website can be a great resource for you to use for free! Make sure to bookmark our website for future use.
Are you looking to Buy a Property in San Diego Area?
We will take the time to listen to your needs and desires to help you find the home of your dreams. Please fill out our request forms so we can help you in detail!
Are you trying to Sell your San Diego Area Home? We are licensed Real Estate Specialists and are very experienced in San Diego County. We also continually work with people in our area. We know our markets inside and out, and we will do our best to make sure you receive top dollar for your home!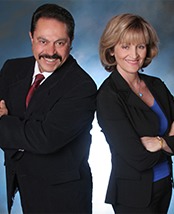 Russ & Dawn August
back to back success
Serving Alpine California for over 40 years
Alpine Premier Properties
1411 Rock Terrace
Alpine, CA 91901